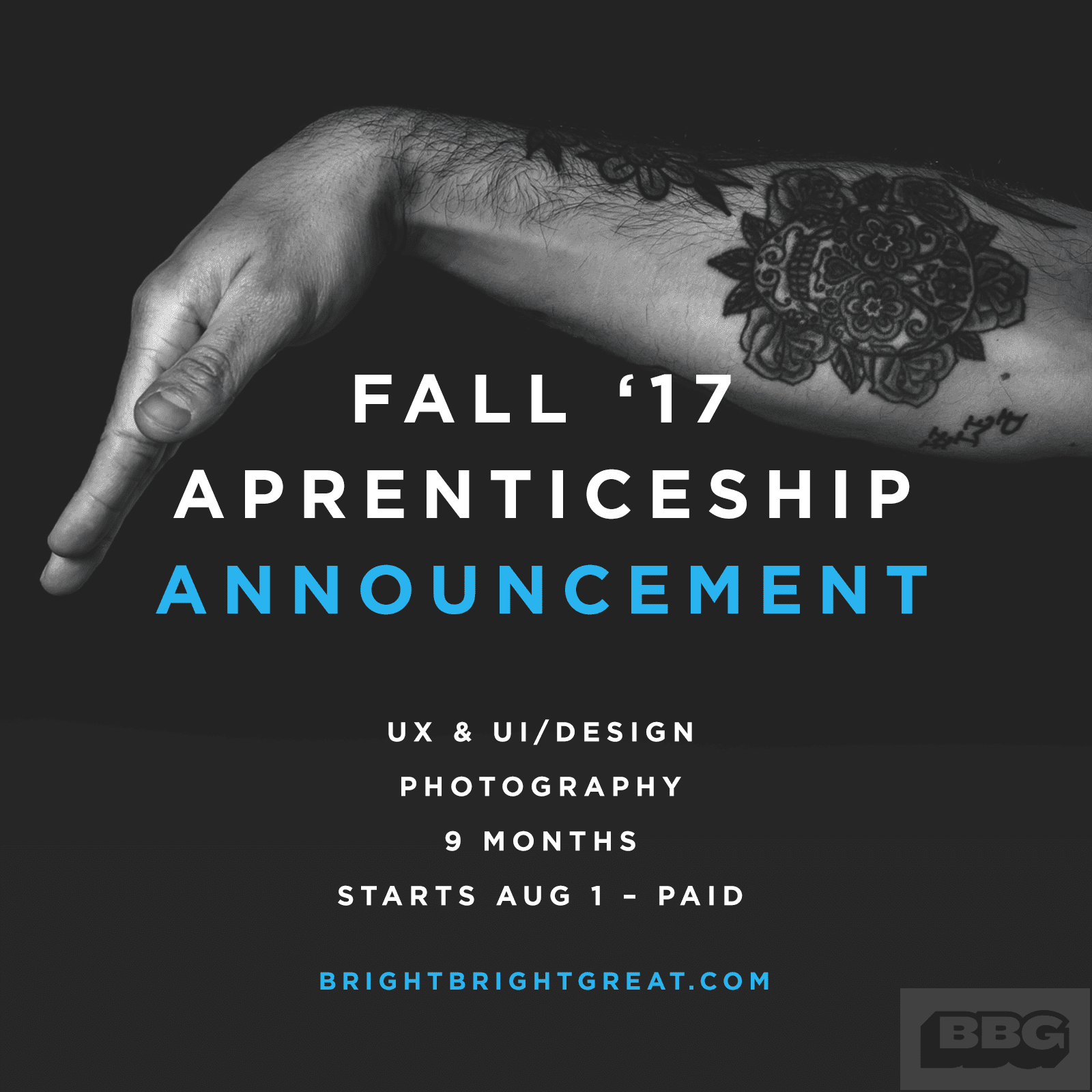 Applications Due By: 8/1 Apprentice to Start: 8/1, or ASAP
Bright Bright Great is looking to give a young designer (with incredible love of design and photography, pushing creative boundaries and the beginnings of a stellar portfolio) their first shot at working with an amazing team of designers, developers and artists.
This is a unique apprenticeship that will have daily responsibilities for Bright Bright Great, and our photography house Mlmtr (including assisting all photo shoots, helping with post processing and social media.)
We're interested in hiring well-rounded people with hobbies and side projects who are curious about learning new things and contributing to our culture in unexpected ways. We are committed to diversity and especially encourage members of underrepresented communities to apply.
This is a 9 month paid Apprenticeship in our Chicago office with evaluation for hire/extension. Important Note: You should have basic photography chops under your belt to apply for this role.
About You:
You are passionate about design, including digital (UX and apps).
You are passionate about photography and want to learn more.
You are detail oriented and feel comfortable sending business related emails.
You know where to look to be inspired.
You are interested in continuing to push your skills forward.
You are interested in working with a small design agency in the photography space to learn and sharpen your skills.
You are up for the challenge of being utilized on complex and interesting problems every day.
Personality Traits That Are Important To Us:
Clear Communicator
Detail Oriented
Thoughtful
Personable
Optimistic
Problem Solver
About BBG:
BBG is a small, enthusiastic team of incredibly talented individuals located in Chicago, IL & Las Vegas, NV. BBG has a focus on User Experiences, UI Design, Art Direction, Branding and Typography. Having digital and photography in your portfolio is important to us (social media, websites, mobile design, app design.)
Our balance of digital to print is probably 70/30. BBG also runs Avondale Type Co., our internal custom type foundry, and MLMTR, a photography studio. We love what we do, period. We're looking for new people with the same passion to make amazing things with us.
Wonder what it's like to work at BBG?
Apprenticeship Recap – Maayan Brown Apprenticeship Recap – Quan Ika Vu Apprenticeship Recap – Dayan D'Aniello Apprenticeship Recap – Margaux Delapierre
How To Apply:
To apply, please send a link to your online portfolio and resume to sayhello@brightbrightgreat.com Attention Amy Schwartz.
Please note in the subject line that you are applying to the BBG/MLMTR 2017 Apprenticeship.
Do not attach PDFs in your response. We will only respond to those who we are interested in pursuing the conversation with.
* BBG is an equal opportunity employer that values diversity in the workplace.
* NO RECRUITERS Update 2017 8/1 This position has been filled.