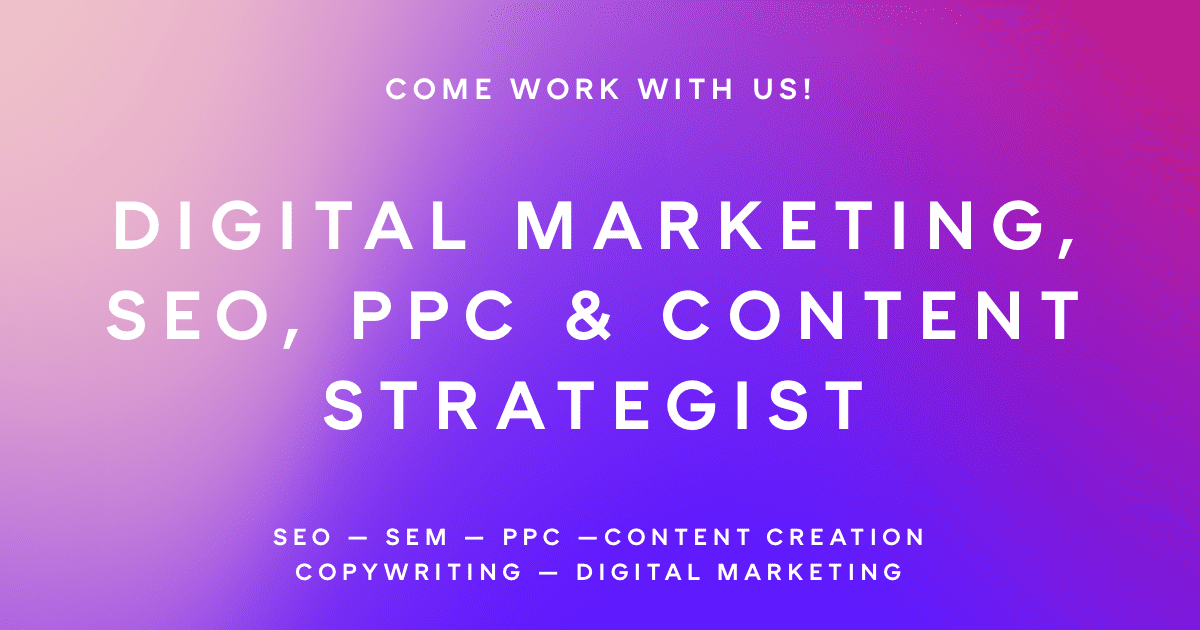 BBG is looking for a Digital Marketing Specialist/Content Strategist:
Digital Marketing Strategy
SEO & SEM Experience
Data & Reporting
Content Strategy & Copywriting
Skills:
Digital Strategy
High Level Growth Strategy for Clients
SEO & SEM
Site Optimization based on Goal Keywords
Organic Optimization and Best Practices
PPC ($250,000+)
Keyword Strategy
Link Buying
Social Media
Account Management
Paid & Sponsored Advertising
Content Creation & Reporting
Copywriting
Brand Messaging & Tone
Keyword and Goal-focused Content
Press Releases
Article Creation/Web Content Creation
Email Marketing
About You:
You are data driven!
You can write copy that is intelligent and within a specified "voice"
Must have experience $250,000+ PPC with the data to show the success of the campaign.
Must have experience creating a Digital Strategy based on Client goals.
Must have experience writing and producing content tied to skills above.
Must have experience managing and producing content calendars Social Media accounts with a larger audience.
About Us:
BBG is a close-knit team of designers, developers and strategists who genuinely enjoy our time working together. We value diversity and empower all employees to have an active role in steering our team forward. We take our snacks and beverages seriously–we're known for our summer happy hour parties, and we always have La Croix, Coke Zero, and cocktail/mocktail ingredients within reach. Our office is dog-friendly as well as human-friendly! Wonder what it's like to work at BBG?
Apprenticeship Recap – Kara Shim Apprenticeship Recap – Ken Barrios Apprenticeship Recap – Maayan Brown Apprenticeship Recap – Quan Ika Vu Apprenticeship Recap – Dayan D'Aniello Apprenticeship Recap – Margaux Delapierre
How to Apply:
Send an email to careers@brightbrightgreat.com with:
Subject line: 2018 Digital Marketing & Content Strategy Application
A brief introduction to yourself, highlighting relevant work experience
Why you are interested in this role at BBG
A link to your online portfolio
No recruiters. BBG is an equal opportunity employer.