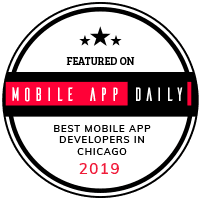 Mobile App Daily was kind enough to include Bright Bright Great in their list Best Mobile App Developers in Chicago 2019.
From Mobile App Daily
The report features leading names in the mobile app industry who have made themselves known for their application development services. With key factors like client testimonials, work quality, and more, we are here to help make the final decision.
Spread the Word
It's hard to find a needle in a haystack. But even harder to feature on MobileAppDaily. For us, the doors to this opportunity opened the moment word spread of our enviable standards in digital service delivery.
Our foundational ethos – to offer end-to-end business administration services from brand strategy to front end development & campaign management, positions us on a unique pedestal. It is for this reason, BBG offices have played host to partners, keen to join hands with a vibrant team unfazed by challenges.
Yes, it's a tough task of anyone to pin-point a single universal selling point from our array of services, given the ambit of accomplishments at Big Bright Great. Yet, expert opinion of MobileAppDaily has put their verdict on our development services via this report on the Best Mobile App Developers in Chicago in 2019.
While we are happy to share the podium with equally celebrated firms, the fact that a publication of the stature of MobileAppDaily took interest in us, is laudable. To put it more eloquently, we'd be part of a section that runs annual analysis on the creme de la creme of mobile application developers.
But that's just the tip. Detailed app reviews, the latest news which is doing the rounds and success stories of high-achievers, make up the body of work that firms like ourselves would happily contest for.
For reasons mentioned here, and the ones we can't put in words due to being humbled, we have this to say: "It is our promise to all prospective B2B & B2C clients that if this is the reward of putting ourselves through the grind, you'd bet we have 100,000% more to offer"